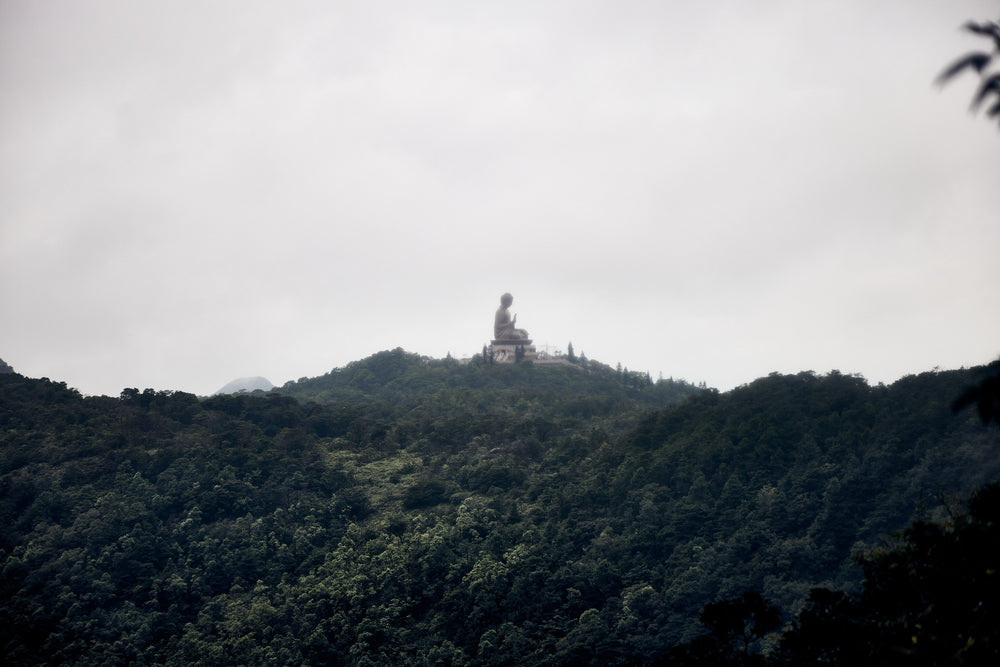 The latest stop on our 002 World Tour took us to Hong Kong with our partners at @abovethecloudssport. This community run had two competitive moments built into it — a steep ascent and even steeper descent.
The ascent was a climb to the top of Lantau Peak from Pak Kung Au. This mountain, also known as Fung Wong Shan (literally "Phoenix Mountain" in Cantonese), is the second highest peak in Hong Kong. Climbing over 600m in just 2.5km, it is a tremendous feat to redline to the top. In dry conditions, it's gnarly enough to cause athletes at any fitness level to suffer. In the stormy, humid haze the day presented, the summit was merely an intuition, certain yet unseen. Nonetheless, both the top man and woman snagged the Strava segment CR's to the top, both in their 002s.
After finishing their ascent, runners waited in the storm for everyone else to make it up before starting the precarious descent from the summit to Ngong Ping, which hosts the sacred Tian Tan Buddha (the Big Buddha) you can barely make out behind the wet haze. 
Up and then down, both different kinds of fleeting suffering that the runners underwent for the sake of creating moments together to last a lifetime. As is always customary with any norda event, the run finished with good food, drink and camaraderie. 
In the short time norda™ has been around, it blows our minds that we have a community that transcends borders and languages. In order to truly connect with our global community, there was no way we could organize our 002 World Tour without showing up for the trail running community in Hong Kong.
Thank you to Above The Clouds Sport for organizing such an amazing event and the community who braved the torrential rains: Julien Bonnard, Wong Wai Hung, YING Tsang,, Tang Sun Kam, Sammy So, KC Chan,Plato Luk, Ryan Mok, Cheng Tsz Yeung, Nugo Yam,Laurent Faton, Nicolas Foucher, Alexandre Reinert, Leung Kwong Hang, SL Yeung, Jeff Campell, Alex Neyrinck, Hyun Chang Chung, Arnaud Mauduit, Luis Alvelais, WONG Kwok Wei, Pei Pei Wong, Angie Yan, Flora Chan, Jade TO.
Photography Julien Payette-Tessier