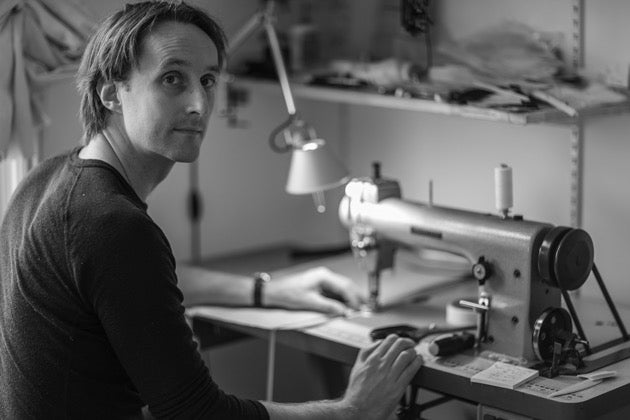 CIMORO founder Alasdair Leighton-Crawford is a master craftsman with a unique dedication to fabric, materials and sport. Once a professional rower, Alasdair later shifted focus to tailoring and apprenticed for a number of years on Savile Row. In this process, he developed an understanding of the body more nuanced than if he had gone straight into sportswear product development. On Savile Row, "product development" is a particular kind of art — concealment and silhouettes, making the body look nice through the meticulously crafted draping of clothing. Alasdair brought all of this experience into the design and development of our collaborative RunShelter Jacket, continuing his resume of tailoring the best fabric technologies into innovative technical garments and accessories.

Alasdair is one of the original Dyneema® trailblazers and has been a tremendous friend to us since the early days of norda™. Below is a quick Q & A with the master craftsman himself.

Who are you?

Hi, my name is Alasdair Leighton-Crawford. I'm a former professional athlete (2009) who after retiring trained as a tailor on Savile Row. I then went on and studied Sportswear at London College of Fashion to bring everything together.

How did your experience as an athlete influence your trajectory in tailoring and craftsmanship?

It gave me a unique insight into the interplay of materials, ergonomics and construction. Namely when it comes to gear that performs under pressure.

How does CIMORO set itself apart?

CIMORO keeps things simple. By building designs interactively and using innovative materials and specialist skills to make unique quality pieces. With what I hope is a great customer experience.

Why bespoke?

Training as a tailor is why CIMORO sits in the bespoke space. In order to produce the highest quality custom-made sportswear and accessories; not so different from being a Savile Row Tailor. Just in Advanced materials for sport in the 21st Century.

What are you most excited about in the current outdoor/technical apparel industry?

The list could be quite long, but my top three are:

Moving away from oil.
Reduced energy consumption in fabric and garment manufacturing and during the gear's life-time.
People are wise to green washing.

Your favorite trail or mountain?
Glaciers Des Diableretes, Switzerland. A mountain which is rugged and beautiful with which I have had firsthand experience of climate change through my lifetime.

Tea or coffee?

Both. But for a fast caffeine hit, always coffee.

If you had one more meal on this earth, what would it be?

Fresh Italian Red Pesto.

Your mantra in hard times?

Keep moving.