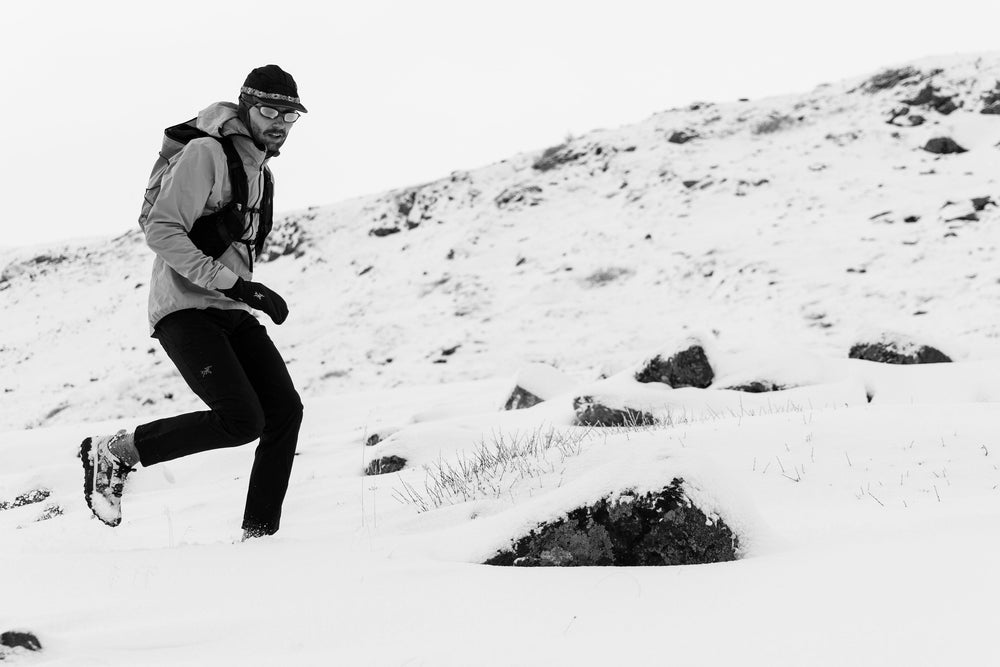 Q&A with Patrick Stangbye: Norway's 007 of the Trails
Patrick was one of norda's earliest adopters. Back in April when we started the epic tease of the 001 on social media, he was first to ask the tough questions about Dyneema®. He knew his stuff.

Months later, at norda HQ (aka the barn), it is he who we often rely on to be the most honest critic. He has put over 1000km on his first 001 (it is no longer white but a new colour we refer to as Patrick's brown). He is now currently trying out the new G+® Spike.

One thing is clear, Patrick Stangbye is the real deal: he does not mince his words when it comes to gear. He is knowledgable about quality and performance, and that's why we affectionately dub him Norway's 007 in the 001.

A quick peruse of his IG profile, you will note epic trail running adventures throughout Europe punctuated with a thoughtfully curated appreciation of art and design. He is equally turned out on and off the trails. You can't help but ask: "who is this guy?".

Here we take a deeper dive.
norda: Introduce yourself- where do you live? what do you do for a living?

Patrick Stangbye: I live in Oslo, Norway. 31 year old male interested in physical and cultural movement. Working as a consultant in the space between culture and performance. Been lucky to work with several outdoor, sports and fashion brands in the past years and currently work with Italian ROA Hiking.

norda: Tell us more about Norway and trail running culture. Is trail running popular there and why?

Stangbye: The saying has it Norwegians were born with skis. Not so true anymore, but it's a strong outdoor culture. It's a great country for trails, so people run both to explore and for performance.

norda: What do you run for?

Stangbye: Pleasure and perspective

norda: You wear a lot of technical clothing and gear. What attracted you to norda in the first place?

Stangbye: I was following the development of bio-based Dyneema® and approach norda before I had seen anything. Combined with the own sole from Vibram utilising their Megagrip Litebase technology I was very intrigued.

norda: What do you look for in a trail shoe?

Stangbye: I run faster than most, at times. For that reason I look for confidence. It comes from good stability and superior grip.

norda: Tell us more about your experience with the norda 001. How would you describe it? How does it feel different when you run with it?

Many shoes had what I asked for above, but not with cushioning for longer distance. Usually you loose some stability when you get cushioning. On top of that a lot of trail shoes have midsoles that leaves a lot to be desired if you ever used modern road shoes. Norda had a good combination of everything, even if I'm hoping for a shoe with even better ground control for more intense runs.

norda: How many miles / where have you run so far with norda 001?

Stangbye: About 1000 km between two colors. 800 km for my white pair (edit: at time of print 1000km plus), and about 200 for the black; I try to keep for races until the white are done. I got a good 200-300 km left is my assumption. Soles are showing some wear due to commutes to the trailhead, but the upper is perfect.

norda: Trail running is becoming increasingly popular- what are your top tips for people just starting out? Favourite places, food, coffee, run rituals.

Stangbye: Ease into it. Make it a habit to go out often, but not always for very long. Find some local trails, and explore them. I love the mountains on our west coast, but only get to go there for long weekends or during summer. Find a commute you could commit to or some city trails. Most cities got more than you would think. Oatmeal is the best before a longer weekend morning run, and I'm a huge coffee fan. Prefer some natural processed Ethiopian, but will have what ever is served in forest cabins. No rituals, just get out there and bring a basic safety kit.

norda: Where do you see trail running heading?

Stangbye: In terms of racing we will see increased differentiation and variety in distances and technicality. New people entering means more room for variety in product as well. Both in look and functionality. We already saw a lot of brands enter the market, some with more noble intentions than others. It might become harder to navigate, but I'm positive it will be a good contribution in most people's lives and facilitate other change in their lives.
Photos by Johannes Rummelhoff